With active shooter and workplace violence on the brain, more and more Fortune 500 security professionals are selecting turnstiles to secure the entrances to their buildings, at the perimeter fence line, front lobby and even on upper levels, just off the elevator banks. Let's explore more reasons why companies are choosing turnstiles and how they interact with current access control systems.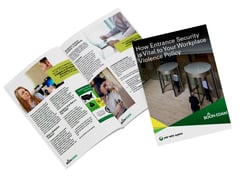 In this whitepaper you will learn more about:
Four benefits of security turnstiles
Integrating turnstiles with access control devices
Important operational considerations, like throughput, power loss and ADA compliance
Selecting the right turnstile models for your unique security goals
Download your FREE whitepaper today!