No organization wants to hear the words, "active shooter" in conjunction with their name, yet more and more incidents are happening around the globe every day. The impacts of an incident range from death and property damage, to a tainted reputation and loss of trust and comfort among employees in the workplace.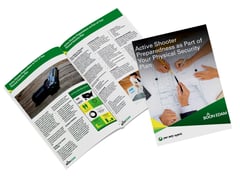 So what measures are you taking to mitigate an active shooter incident at your facility, especially when it comes to your physical security plan.
In this whitepaper you will learn more about:
The profile of an active shooter
Incident statistics
Four ways to prepare your organization
How and where security entrances fit into a preparedness plan
How security doors and turnstiles measure up against an incident
Download your FREE whitepaper today!