Whitepaper: Successfully Mitigate Tailgating, Every Time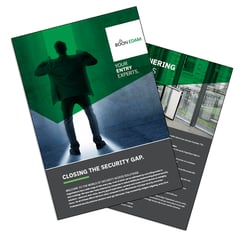 Organizations utilize a number of security measures to mitigate the risk of tailgating, such as cameras, access control systems, and guards. Yet, these measures alone fall short when compared to the effectiveness of proper security entrances.
In this whitepaper you'll discover:
Benefits of a secure entrance
How to effectively manage risk using the risk equation
Three levels of security tailgating mitigation
And much more
Download your free whitepaper by filling out the form at the right.